A Date with Lively History of Cochin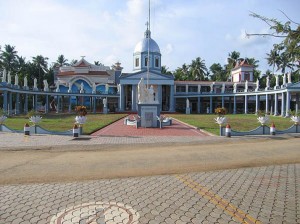 Cochin
Stories relate happenings and express thoughts and feelings about events. Stories and imagination transport us to another time and place. They can open one's mind to new ideas and set one free, or they can control, manipulate and trap one in a place of desperation. Such is mine too. A short but lovable journey to Cochin that may push you to plan a tour to Kerala – God's own country!
After enjoying enough of relaxing holidays in Kerala backwaters and spending days on waters in a houseboat, I planned to devote a couple of days exploring the rich ancient Dravid touch. And what place could be better than Cochin, when it comes to historical monuments in Kerala? So without giving any second thought, I headed towards the commercial hub of Kerala. On my way to Cochin, the first thing I came across was the Chinese Fishing Nets. My driver told me that when the traders from the court of the Chinese ruler Kublai Khan introduced these nets. These nets serve as the medium of livelihood to many fishermen here.
It was quite late in the evening, so I spend the rest hours of the day at leisure in my hotel. The best part of the day was having authentic sea food delicacies in dinner while enjoying Kathakali dance. Trained dancers from See India Foundation and The Cochin Cultural Centre were invited to entertain the guests there. The traditional dance form that they presented with impressive facial expressions, hand gestures and dance moves – was simply spellbinding.
Next morning, I started my exploration with Vasco House, Dutch Palace, Fort Kochi and Jewish Synagogue. The beauty of these old structures is incomparable even today. These ancient monuments stand tall retaining the age old glory of Dravid architecture and showcase a perfect blend of Chinese and Belgian art forms as well. Before having lunch, I visited the Hill Palace at Tripunithura. This 19th century structure has now been converted into a museum displaying a fine collection of articles of the Rajas of Kochi, including the throne and the crown.
In the second half of the day, I paid a short visit to Mangalavanam Bird Sanctuary that lies in the heart of the city. It was the place where I spotted several exotic and rare varieties of migratory and resident birds. My next destination in Cochin was the Museum of Kerala History at Kalamassery, which exhibits the history and culture of Kerala through exquisite paintings.
After wandering in the city, I spent an hour in solitude at the Cherai Beach and relished fresh juice there. Roaming alone did not make me feel bored as the lively history of Cochin was there along with me to entertain.