A Religious trip to Cultural Capital Thrissur in Kerala
I always wanted to go on a religious tour. So, I chose Thrissur in Kerala and went out for a spiritual voyage. I took a flight from Delhi International Airport and boarded off at Cochin International airport. From there on, I hit on a road trip to reach Thrissur, that lies just 55 km from the airport. I freshened up myself in a comfortable hotel in Thrissur.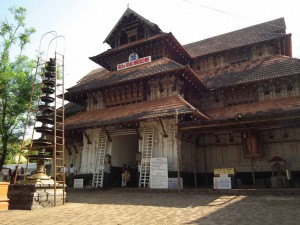 Vadakkunnathan Temple Thrissur
From my online research, I came to know that Thrissur is known as Kerala's cultural capital. Spread over an area of 102 sq. km, it is famous for its renowned temples. Thrissur is named after the three temples of Lord Shiva in the region – Punkunnam Siva temple, Kottapuram Siva temple and Vadakkunnathan temple. Thrissur literally means 'Town with the name of Lord Shiva'.
The hotel in which I stayed was fully furnished and equipped with modern amenities. After a couple of hours rest, I started off my tour with Vadakkunnathan temple in Thrissur. Devoted to Lord Shiva, the temple sets an outstanding example of a simple yet magnificent Kerala architecture. Inside, there are shrines of Lord Shiva, Goddess Parvathy, Lord Rama, Lord Ganesha and Lord Krishna. This temple serves as the venue of all big festivals and pujas.
As destiny would have it, the famous Thrissur Pooram festival was going on when I landed Thrissur. Touted as one of the most popular temple festivals of Kerala, I joined in the revelry of thousands of devotees and tourists who were attending Thrissur Pooram festival. Decorated with flowers, fireworks, colourful dresses and caparisoned elephants, the place was a wonderful sight to capture.
Another important tourist spot, which fascinated me was Shakthan Thampuran Palace. Constructed with Kerala-Dutch style, the palace preserves the tradition of the ancient Hindu rulers of Kerala.
I was so tired that I didn't realise when I had fallen asleep after coming back to hotel. On my second day of Thrissur tour, I visited Guruvayoor Kshethram, the only Hindu Sreekrishna Temple at Guruvayoor. It is about 33 km north of Thrissur. The 40-plus elephants dotting the temple make it even more amazing. Heading towards the Triprayar river, about 23 km from Guruvayoor, I came across Triprayar Temple, dedicated to Lord Rama. It has architecture similar to that of the Vadakkumnathan Temple.
The next destination was Koodalmanikyam Temple. A devotee told me that the temple is dedicated to Bharata, the loyalist brother of Rama. People suffering from severe illness visit this temple and get cured.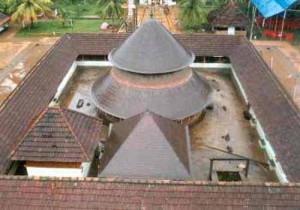 Koodalmanikyam Temple Thrissur
My religious trip to Thrissur also took me to Kerala Kalamandalam, about 32km north-east of Trissur at Cheruthuruthy. It is an esteemed university that imparts training in classical dance. There were several students learning Kathakali, Mohiniyattom, Thullal, Bharatanatyam, Kuchipudi, and Kathak.
I kept the last day of my Thrissur trip for shopping. After wolfing down my breakfast at the hotel, I went out for shopping. I picked up arts, crafts, unique silk sarees, gold jewellery, coir products, coconut shell crafts, horn carvings, woodcarvings and brass works. I also bought some hand-woven carpets.
I returned home from my Thrissur Kerala tour, feeling rejuvenated and mentally peaceful.