Culture of Kerala is an Important Page to Indian History
Every traveller in the world has different intention from the destination that he or she travels to. If it comes around a terminus like Kerala, then you need to open your hand to collect its mesmerising beauty such as culture of Kerala. No wonder to thunder yourself that Kerala is blessed with great natural beauty and diverse ecology. Kerala presents itself one of the 'Ten Paradises of the world' and '50 places of a lifetime' by the National Geographic Traveller Magazine.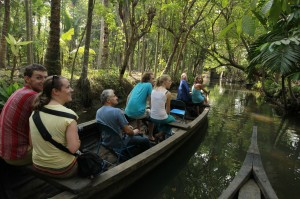 Kottayam Backwaters
On the last Saturday, I decided to take my friend on a trip to know people and culture of Kerala by Airline from Delhi to Kerala. In Kerala, we stayed to rest in a hotel near to Kottayam. On the next day, we enjoyed a lot the fresh air, greenery and the most relaxed travel experience through the pristine backwater of Kottayam, for almost the whole day.
On the next day, we moved to Alappuzha backwater from Kottayam through boat to enjoy the still waters and the sight of farmlands situated below water levels. Hereby we did not stop ourselves to click the beauty of lush Kerala.
Also, I would draw you all my readers towards why this state adds its presence important in Indian traditions. Kerala travels were fruitful of art forms such as traditional dance of Kerala as we experienced so. For the dance lovers in India, I have to come a step ahead to say that this earthly paradise can be called none other than a heaven to continue classical customs as Katakali Dance Kerala. Truly dance and music are intricately woven into the culture of Kerala.
People of Kerala had warm & friendly nature to us, while interacting with them. Truly Keralites stood with their strong culture and brought proud to their state. In addition to know you more before you step in, I got this state to have been perpetuating its matchless some other art forms as Martial arts, and Kerala handicrafts.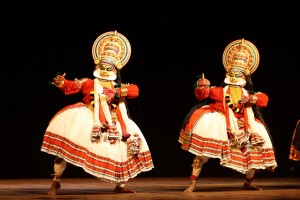 Dance of Kerala
Yes, the caption-"God's own country" affixed with Kerala is as an extension to reminisce us that exists of its natural beauty and worldwide amiable hospitality that made me to come again. Here I penned down about Kerala people culture that intends you to have a Kerala trip once in your lifetime. It will really bring close to the handicrafts of God e.g., backwaters, hill stations, forests and lakes in Kerala.
Altogether, our country stands concrete to have one of the richest and olden cultures in all over the world. The historical buildings and monuments like palaces, temples and forts are as the prologue of Indian society. The exclusive number of temples has taken to Kerala a must-visit to travellers to glean the unknown fables of the country.