The Elephant Festival Kerala: A Royal Festivity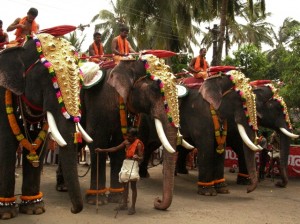 Kerala Elephant Festival
Blessing in disguise is what I say regarding my last official trip to Kerala. Though I was not ready for this tour but my senior insisted, and I went to Thrissur from Delhi in Trivandrum Rajdhani train. On the third day of my journey I reached Thrissur at midnight. Though the journey was exhaustive but I got ample of time for myself. I enjoyed this long journey by eating, reading, watching my favorite movies and seeing beauty of passing by places.
I rested the whole night in my office guest house and when I woke up the next morning my office peon informed me that office will remain closed today because of Thrissur Pooram, the most colorful temple festival of Kerala. He advised me to go outside to enjoy this most vibrant and cultural festival of Kerala. I had also heard about this festival but never enjoyed it. So hurriedly I dressed up and ate 'masala dosa' in my breakfast and went straight to Vadakkunnathan Temple which is the center stage of this celebration.
When I reached the temple I saw numerous people pushing each other in order to get through the temple entrance gate. Thrissur Puram is a two-century old temple festival which is well known throughout the world for its unique pomp and pageantry. This elephants festival is held in the Malayalam month of Medom (April-May) and lasts for 36 hours. It is a grand assembly of gods and goddesses from villages and towns in and around Thrissur. The foremost attraction of this festival is the grand elephant procession. These elephants were lavishly decorated with jewels and sequined silk parasols. I was also impressed by the beautiful decoration of elephants. Along with this the elephant parade was accompanied by orchestra band playing folk music of Kerala.
The festival reaches its peak when 30 richly caparisoned elephants emerged from the Vadakkumnathan temple escorted by three efficient priests sitting atop them. The rhythmic beats of the orchestra heightens the beauty of this procession. The beat and sound was pulsating which created mystic atmosphere throughout the temple premises.
I was enthralled by the cultural beauty of this festival. This cultural representation of religious belief provides a platform to people to share their common interests which develops cohesion among several social strata. The spectacular display of colorful fireworks, parasol exchanges, an umbrella showing competition are the other attractions of this colorful celebration which I liked the most.
After spending 6 – 7 hours in the temple premises I returned to my guest house in the evening. After watching TV for sometime I went to the dinning hall for dinner where I ate delectable Rasam with Tapioca and Fish Curry. After that I returned to my room with a thought to read something but don't know when I got lost in my dream.