Experience the Best of Nature Glamour during Kerala Tour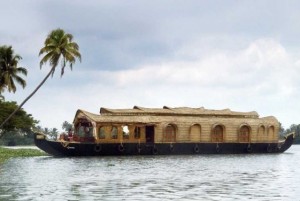 Kerala Backwater Tour
The name of Kerala always conjures my mind with an image of the sun-kissed beaches, the misty hill stations, the enchanting backwaters and the forestlands rich in flora and fauna. Because of its celestial beauty National Geographic Traveler Magazine ranked Kerala a 'Ten Paradise of the World' and 'Fifty Places of a Lifetime'.
This recognition is enough, which lures scores of tourists to this place from across the globe. And I am one of them who visited this land of scenic beauty with my two friends last month. We took customized Kerala Travel Guide from a travel agent at budgeted rates. This 4 day and 4 nights tour package was efficiently designed that provided us a chance to explore and experience the myriad facets of Kerala Tourism.
The first day of our Kerala Tour is dedicated for beaches. We spent almost whole day at Kovalam beach. This is a cluster of three crescent shaped beaches whose charm is renowned throughout the world. We enjoyed the scenic composition of sea, sun and sand at our best. The pristine, serene and scenic ambience of this place enthralls us most. This beach is also ideal for water sports activities like Kayaking, Swimming, Surfing and Skiing.
Next day of our tour was dedicated for backwater cruise. The Kerala Backwaters are a labyrinthine network of 900 km of waterways interconnected with canals, rivers, lakes and inlets. It is the uniqueness of Kerala Tourism, which gave us chance to experience the natures jubilant scattered in the form of land, sea and sky. 'Kettuvalams' popularly known as Kerala houseboats are the ideal way to enjoy Kerala Backwater Cruise.
With Kerala backwater Cruise, we experienced nature's breathtaking beauty with the soothing sound of water rippling alongside the houseboat. During our cruise, we experienced kaleidoscopic view of countryside, swaying palm trees, emerald rice fields and several historical monuments on the bank. We were totally engrossed by nature's jubilant beauty. The ecstasy we felt cannot be expressed in words.
After spending memorable night stay in a leisurely flowing houseboat, we reached Periyar in the morning. It is among the famous of all Kerala Wildlife Sanctuaries known for its exotic collections of flora and fauna. This national park is located on the bank of Periyar Lake and sprawled over an area of 777 Sq.km. The exotic collection of flora and fauna species make this place a heart throbbing destination. Whole day we spent in this wildlife reserve sighting many animals, bird species and floral species. Some of the most sighted wild animals are wild elephants, Sloth Bears, wild boars and Stripe-necked Mongoose.
After enjoying nature's beauty, we went to dance theater to experience the rich culture fiesta of this state. Here we saw Kathakali the most renowned dance drama of all Kerala dances. It is a classical dance-drama known for its unique combination of literature, music, painting, acting and dance. The word Kathakali literally means Story-Play. The themes of the Kathakali are religious in nature whose stories are taken from religious scriptures.
Next and the last stop over of our itinerary were at a restaurant whose delicious dishes are known across the globe. Here we ate typical Kerala Cuisine whose taste still titillates my taste buds. After satisfying our appetite, we went to airport and good-bye this land of God's own Country.