Experience the Pristine Beauty of Nature during Munnar Tour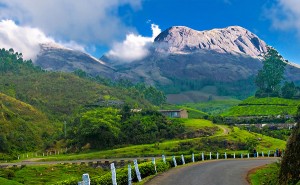 Munnar Tour
Munnar is one of the famous tourist destinations of Kerala where tourists come in a large number to feel the charm and glory of nature. Though I have heard and read about this mystic destination several times but I have felt its soul stimulating beauty during my Munnar tour last weekend. This is a beautiful Kerala tourist destination situated at an altitude of 5200 feet above sea level in the Idukki district. This is a premium hill station of this place located at the confluence of three Mountain rivers namely Mudrapuzha, Nallathanni and Kundala which meet in the centre of the town.
Large number of tourists from several parts of the globe comes here to spend memorable and pleasurable holidays amidst serene and scenic natural ambiance. The incomparable beauty of this scenic land provides solace to the weary souls. This hill station is also a favoured destination for adventure freaks. The popular adventure activities of this place are rock climbing, trekking and paragliding.
Major attractions which we covered during our Munnar Tour are:
Devikulam
The beauty of gorgeous greenery with mountain backdrop makes this place a beautiful and romantic destination which calls on scores of tourists from several parts of the globe. Velvet lawns, cool mountain air, scenic landscapes, diverse flora and exotic fauna make this place an enchanting destination. Beautiful Sita Devi Lake and spectacular Pallivasal Waterfalls are the two foremost attractions of this place. Sita Devi Lake is a wonderful place to enjoy leisure or picnic. Trout fishing can be enjoyed here by tourists.
Eravikulam National Park
The diverse collection of flora, fauna and bird species make this place a popular destination for spending pleasurable holidays. It is one of the popular wildlife reserves of India where tourists come in large number for watching the wild animals in their natural habitat. This national park sprawled over an area of 97 km. The Tropical Evergreen Forest, Shola trees and rolling grassland dominate the flora of this sanctuary which nurtures a variety of wild animals. This park was founded in the year 1975 with an aim to protect the endangered Nilgiri Tahr. Some of the other wild animals which can be seen during a safari at this place are lion-tailed macaque, nilgiri langu, tigers, leopards and several species of birds.
Pothamedu
The unending stretch of tea and spice gardens makes this place a renowned tourist destination which calls on scores of tourists round the year. This plantation hub of Munnar is situated at a distance of 6 km from the city center. The scenic beauty of rolling hills, tea plantations and dense vegetation makes it a famous destination of Kerala Tourism. Apart from offering sheer natural beauty this place also provides facilities for adventure sports.