Exploring Uncharted Land in Kerala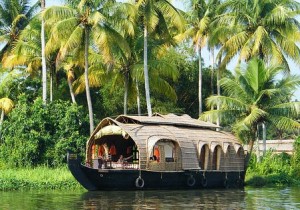 Kerala House Boat
Come January, and I arrived at Mangalore airport (Karnataka). This trip of mine was especially organized to explore lively Kerala backwaters, heavenly greenery, interesting wildlife and multi-coloured festivities. I hired a taxi to Kasargod (50 km) and headed to the northern Kerala. As I had observed in Kerala travel guide, the local people were busy with the celebration of Kerala Gramam. After a quick shower, I headed for the fair, where I came across traditional houses, bright & colourful attires, traditional cuisine, superb handicrafts and many such items.
The best part with my stay at Kasargod was backwater cruise. Being a history buff, I also visited sites like Bekal Fort, Madiyan Kulom temple, Ananthapura Lake Temple, Chandragiri Fort etc and captured them in my camera for a lifetime. While enjoying my backwater cruise, I also had a closer look at the dense greens of Kasargod, which provide a home to about 24 species of the rarest of mammals, 200 species of birds and about 100 species of butterflies. While leaving Kasargod, I visited the market area with my guide and bought a few coir products, handlooms and tobacco products for my friends.
My next halt was Cochin, but en route I spent a relaxing day at Wayanad –the land of Spicy Hills. Though I paid a short visit to the famous Edakkal Caves and Wayanad Wildlife Sanctuary and clicked a few bisons, elephants and deer playing near the lake, but rest of the day was at leisure. My hotel was at close proximity to the tea / coffee & spice plantations, there fore the air was filled with refreshing fragrance.
The next morning, I reached Cochin – the Queen of the Arabian Sea by train. Located between the Western Ghats and Arabian Sea, the city is blessed with spotless natural beauty and serves as an important trade centre too. I was booked in a luxurious houseboat (traditional Kettuvallom). Apart from exploring the best of aquatic life and living of villagers along side the serene waters, I also relished various traditional dance forms, music and the sweet dish 'Payasam'. I spent a couple of hours at an ancient Ayurveda & Yoga resort to rejuvenate my senses. During my entire tour, I found the coastline of Kerala dotted with canopies of coconuts, gorgeous greens, balmy beaches and the breathtakingly beautiful backwaters.