Journey through Houseboat in Kerala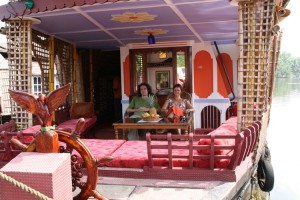 Kerala Houseboat
My stress took me to rejuvenation! Sounds odd, but true. Once I realized that my work is getting heavies and unbearable day by day, I planned a week-long trip to Kerala. It was the first month of monsoon and Kerala backwaters welcomed me with full enthusiasm. I was booked in a Kerala houseboat. A houseboat in Kerala is a medium that can let you explore all the major parts of this green state and offers true joy of living on waters. Moreover, you can halt at any of the beach resorts to savour lip-smacking Kerala cuisine and a wide variety of sea food delicacies. These beach resorts also offer a wide range of Ayurveda therapies for complete rejuvenation of mind, body & soul.
My sightseeing stated with Alleppey – the Venice of the East. My guide told me that these luxurious houseboats were earlier called 'Kettuvalloms' and were used as a medium to transport food grains and spices. My houseboat was well equipped with facilities like spacious bedroom with attached bath, kitchen, dining area, sun deck, living area etc. it was no less than an accommodation unit of a star rated luxurious hotel. The best part with the houseboat was it was completely made of natural products like bamboo mats, sticks, palm leaves and wood. The smooth wooden flooring and coir mats also added to the beauty of my houseboat.
The houseboat took me to places like Kumarakom, Kasargod, Guruvayur, Periyar, Cochin and Thiruvananthapuram. While staying on waters I easily explored all these cities. I wandered across market streets and collected some of the rarest handicraft items. I visited the most ancient Hindu temples. I witnessed the finest of greenery. I spotted the rarest of animals in picturesque wildlife sanctuaries like Periyar Wildlife Sanctuary and Kumarakom Bird Sanctuary. The best part of my tour in Kerala was a long relaxing nature walk amidst spice and tea/coffee plantations in Periyar.