Kerala Backwater Tourism: Beauty,Excitement, Fun & Relaxation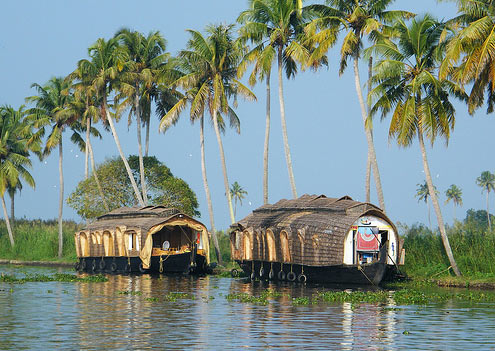 Kerala Backwater
I tell stories not to promote places, rather to inform the readers about the wonder destinations and to develop interest of people about places to see in India. Therefore, I am not just another wanderer – I am the God's man! And this story is about the journey of the God's man to the God's own country – Kerala. Steeped in greenery and natural beauty, the state offer countless fascinating attractions. It was a seven day trip during which I explored picturesque beaches, virgin landscapes, ancient temples, enchanting wildlife sanctuaries, aromatic spice/tea plantations etc. But the best part was, undoubtedly, Kerala backwaters.
The green state of Kerala is blessed with 44 rivers and a superb network of canals, lakes, lagoons and estuaries. These are the places where the true Kerala lifestyle can be enjoyed at its best. A Kerala backwater tour can take you through all these fascinating attractions and let you enjoy traditional Kerala art forms. On my tour to Kerala, I was booked in a luxurious houseboat that offered me a pleasant sail through palm trees, pandanus shrubs, leafy plants and bushes.
The traditional houseboat or Kettuvallom was simply another heaven to me. That eco friendly boat, built with bamboo poles, coconut fibre, ropes, bamboo mats, carpets etc. offered me the bet facilities like a star rated hotel. It had proper bedroom, attached bathroom, power backup, sitting area, kitchen and sun deck. Moreover, I was provided with a cook and an assistant. So my journey was awesome with authentic seafood delicacies prepared by the cook and the interesting facts about Kerala served before me by the assistant.
We started our journey from Kollam, popularly known as 'Swapnadesh'. The houseboat first took me to Alappuzha / Alleppy that is always compared to the watery city of Venice. There I visited some of the ancient architectural wonders and temples. On my visit to Kuttanad, I explored beautiful lakes, canals, rivers and rivulets. This was the time when I captured a number of colorful birds in my camera. My next halt was Kumarakom, where I enjoyed the cruise on Vembanana Lake and indulged in some of the common water sports.
Located alongside the coastline, Kasargod is a nice destination with immense natural beauty and shopping options. I found some good handicrafts & sarees for my mother at reasonable rates there. On my backwater tour in Kerala, my last destination was Thiruvallam, where I enjoyed the relaxing canoe rides.
After the complete tour of this green state with all the attractions, I realized that Kerala backwaters definitely serve as the perfect medium to explore waterways and have a closer look at the local villagers, their traditions and living. As Kerala backwaters are connected to almost all the major cities of the state, important from tourism point of view, they offered me wonderful opportunities to have a glimpse of culture, history, adventure, beauty and traditions of Kerala.