Kerala Beaches – Unwind Yourself in the Lap of Nature
I am fond of reading travel magazines. The very reason is to get more and more information about a particular place like its culture, people, attractions and specialty. While reading, I came across few destinations in India, which are renowned for their beaches.  Kerala is one such destination that is renowned for its breathtaking beaches which I visited few months back with my family.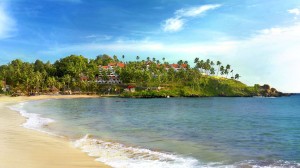 Kovalam Beach
Enveloped with sheer beauty, Kerala beaches are perfect destinations to enjoy vacation. We embarked on Kerala Beach Tour, which is a popular theme of the tour. The beaches spread over 600 km area and are gorgeous. Beaches are beautifully dotted with unlimited scintillating golden sands and swaying coconut trees which make them an ideal sport for relaxing.

Some of the most famous beaches of Kerala are:
Kovalam Beach
Kumarakom Beach
Alleppey Beach
Beypore Beach
Varkala Beach
Marai Beach
Kappad Beach
Sankhumugham Beach
Thirumullavaram Beach
Thangassery Beach
However, during our 10 days Kerala tour we could explore only three beaches, which are:
Marari Beach
We started for Marari beach from Cochin and soon we were in this tranquil destination. This beach destination is renowned across the world for its beautiful sandy stretch, azure sea and scenic atmosphere. The composite beauty of nature made us captivated till the time we stayed there. Marari Beach is also famous for rejuvenating Ayurveda therapies. I too had a refreshing experience in one of the Ayurveda centers that offers various treatments. After visiting the center, I felt myself rejuvenated like never before.
Varkala Beach
Our second beach destination was Varkala Beach, occupying a significant place on the tour itinerary. The guide who was making our all doubts clear during our tour, told us about the beach that it is renowned for its mineral water springs which are said to have medicinal properties.Like us, many tourists also visit the beach to explore the breathtaking beauty and to relax sometime in the lap of nature. This beach has also great importance as one of the well-known pilgrimage centres in Kerala.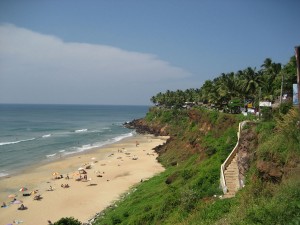 Varkala Beach Kerala
Kovalam Beach
We heard a lot about Kovalam Beach and I read a lot about this beach in a travel magazine. Surrounded by lush greens, this charming beach consists of three small crescent beaches. These are Lighthouse beach in the southern most, Hawah beach in the middle and Samudra beach in the northern most. Its pleasant tropical climate helped us to enjoy the activities like surfing, wooden boat ride and shopping.
With lots of unforgettable memories during our Kerala Beach Tour, we bid goodbye to God's own country.