Kerala Handicrafts Bringing the Talent Ahead
Kerala, the land which has already established itself as Greenland, offers tourists much more than this. With its lush greenery, skilful locals and available resources, Kerala serves as the hub of traditional handicrafts. Tourists have a great choice to select from a variety of handicrafts in Kerala.
Handicrafts of Kerala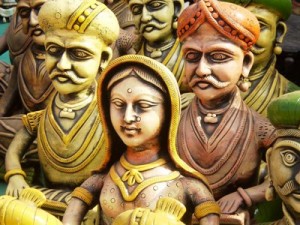 Handicrafts of Kerala
The amazing Handicrafts of Kerala are the true showcase of cultural heritage of the state. The traditional Kerala handicrafts encompass religious manifestations where statues of different Gods and Goddesses are exquisitely carved in rosewood or sandalwood. The art forms of Kerala like masks of Kathakali are also portrayed in the traditional handicrafts of Kerala. Models of the popular snake-boats are very popular among tourists.
The handicrafts of Kerala include popular items like:
Coir and Cane Products
Kerala abounds in coir and cane products and therefore, it produces Eco friendly items like coir mattresses, mats and floor furnishings. Coir products manufacturing is an important cottage industry in Kerala, especially in districts of Kollam and Calicut.
Brass and Bell Metal Works
Kerala boasts of its bell metal art. Bell metal is basically an alloy of tin, brass and copper, which can be utilized to cast different mythological occasions like the well-known "Tandava Dance". In intricate art forms, it has been termed as the 'Gaja Tandava' or 'Gajasamhara'. These articles can be also used for crafting lamps and other household items.

Lacquer Ware
These are made of woodcraft and metal. Wood carvings are famous as these enabled skilled persons to show their talents in artistic works. The trees of sandalwood and rose wood are mainly used for carvings. Myriad shapes are exquisitely carved in these woods after that a lacquer finish is given to the ready products. The finished product is then adorned with several precious metals. Ernakulam district is famous for Lacquer ware work.
Sandalwood Carving
Many gorgeous product are carved from the fragrant Sandalwood. The product array carved in this manner includes boxes, ashtrays, candle stands, tiny models of animals and Kathakali dance postures. Cochin, Ernakulam, Trichur and Thiruvananthapuram are the place where Sandalwood Carving can be found.
Ivory Works
Ivory Works
Ivory carving is also counted among other popular traditional handicrafts of Kerala. Different items beautifully carved in ivory encompass mythological characters. These are available in form of showpieces. Buffalo horns are the main articles used for ivory carving.
Textiles & Wooden Toys

Kerala offers a distinct collection of textiles that has gained popularity among tourists. These include Kancheepuram silks and others.
Another popular item includes wooden toys. The wooden carving is done to make various toys, which fascinate tourists on their trip to Kerala.