Kollam Tour: Kerala in Miniature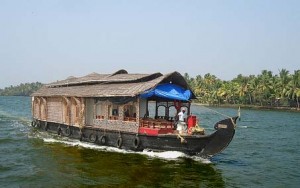 Kerala Houseboat
Searching for a destination gifted with the best of waterways and the best of greenery?  Plan out a Kerala tour and go through Kollam travel guide. This  old seaport is also known as Quilon and is located on the banks of Ashtamudi  Lake, about 70 km from Thiruvananthapuram. Apart from serving as a  wonderful gateway to Kerala, this beautiful district is also known as a  renowned trade and commerce centre.
Background
Earlier a  renowned trading point for spice, Kollam has been a favourite place for  the traders of Persia,  Arab, Rome and China. It was established as a  modern trading centre by the Portuguese, followed by the Dutch and the British. For the past few years, it has emerged as a leading  cashew trading and processing industry in India. Moreover, Kollam is an  important hub for the state's marine products.
Major Attractions:
Ashtamudi Lake
This second  largest lake of the state offers the best of backwater cruises. The backdrop  of Chinese fishing nets forms the spell binding view here. Dense coconut  groves and palm trees surrounding the entire lake make it an ideal  place for your vacations. Kollam Boat Club offers ample opportunities  for cruising alongside the waterline.
Kottankulangara  Chamayavillanku
This is a  unique and interesting festival, in which all the men dress themselves  like women and perform various art forms in devotion to Goddess Bhagavathy.  Organized at the Kottankulangara temple in Chavara in March – April, the  festival is marked by the 'Damsels' that come to the temple at night in  a long procession with lighted lamps in their hands.
Jatayupara
As the  name suggests, this huge rock at Chadayamangalam is dedicated to the  mythical bird Jatayu in the epic Ramayana. As the legend goes,  that huge bird died here only while fighting against the demon King Ravana,  who kidnapped Devi Sita. Jatayupara serves as the venue for the 'Crafts  Festival' that is held annually during December-January. This  festival features the craftsmanship of artisans from all over the country.
Kottarakkara
Earlier  being the capital of Travancore Royal family, Kottarakkara is popular as  the place from where the famous Indian classical dance form originated.
Kollam  has no dearth of attractions. It is also frequented for the Picnic Village (the main centre of recreational activities), Rameshwara Temple, Palaruvi Waterfalls and the fresh water lake Sasthamkotta.
Kollam is favourite among history buffs because of several ruins of palaces and  forts that are worth visiting. The scenic beaches are a treat to all the  honeymooners as well as the routine vacationers.