Live in Communion with Nature on Kerala Travel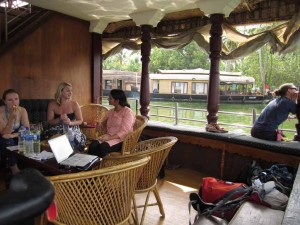 Kerala Houseboat
Today, my post is dedicated to Kerala, the green paradise on earth. I recently had an exciting trip to Kerala with my husband, Nelson. There was no special plan of tour but I just wanted to break the monotony of the hectic city life. For past few months, I was feeling agitated with the humdrum of life and wished to relax in greenery. Nelson came up with the idea of Kerala trip that completely enthralled me and I jumped at it.
After contacting a renowned tour operator in Delhi, we left all the worries and set out our travel to Kerala. This long awaited journey multiplied my happiness when Nelson told me that we would be enjoying a sojourn in a houseboat. What else I could ask for?
We arrived in Cochin by air, the town steeped in history and headed on a visit to Fort Cochin, a popular attraction in Kerala. After enjoying the sunset cruise around, we took shelter of our sojourn at Kerala houseboat. Our houseboat cruise started and we cruised out of Alleppey and moved along the backwaters. It seemed like watching the green paradise very closely.The sound of water is a soothing experience itself.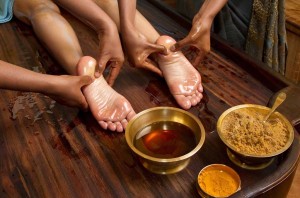 Kerala Ayurveda Massage
After tickling our taste buds with scrumptious Kerala food including Dosa, Uttapam with Sambhar and Pal Payasam, we moved on to explore the vast stretch of water called Vembanad lake. My husband unfolded another surprise for me, which was a short sojourn at Coconut Lagoon Resort in Kumarakom. We had a wonderful yoga session, followed by rejuvenating Ayurveda massage at Ayurveda centre of the resort.
Moved on to Periyar, our next destination, we were quite excited about it. It was a wildlife reserve in Kerala where we could spot a number of animals including elephants, monkeys, wild boar and even tigers. How could we miss out the exciting boat trip around Periyar Lake? The site also offers opportunities for a trekking excursion.
From there a four hour drive took us to the Marari beach in Kerala. The beach of soft white sand cast a spell on the visitors. We could cover just a small part of the state on our Kerala travel and left with the wish to come again to explore other fascinating attractions of the state.