Munnar Tour: A land of Celestial Beauty – Part II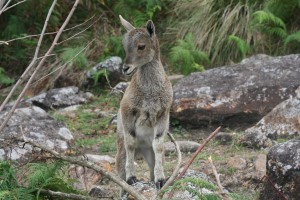 Eravikulam National Park
Cool breeze drenched in tea aroma awakened us from our deep sleep. We had our morning tea in the balcony facing the vast expanse of tea garden. It was for the first time I had ever tasted such a nice tea, its aroma and taste is still lingering on my tongue. After taking bath we had Idli & Sambhar in our breakfast and headed to Eravikulam National Park in an auto rickshaw. This park is situated approximately 8 km from the Munnar town and spread over an area of 97 sq km in and around Rajmalai Hills.
The stark beauty of rolling grasslands with steep mountain slopes is the most striking feature of this place. This park was established with the objective to protect the mountain goat of South India, the Nilgiri Tahr. Apart from this Tigers, Atlas Moth, Elephants, Gaurs, Lion-tailed Macaque and Leopards are the other attractions of this sanctuary. We were in this park for 3 to 4 hours wandering here and there capturing natures' beauty in our camera. The foremost attraction of this park is Anamudi, the highest peak of South India. This peak towers over the sanctuary whose slopes are abundant in all kinds of rare flora and fauna. It is an ideal place for trekking but we were not interested because it would have exhausted us completely.
The Eravikulam National Park is really a romantic destination which is known for its sublime greenery. The arresting beauties of this place make it a paradise for photographers and nature lovers. We came out of this natural wonder and headed for Echo Point which is located approximately 15 km from this place.
On our way to Echo Point we had a palatable lunch on a roadside restaurant. The use of fresh spices provided distinctive taste and aroma to the food which was tabled to us. After satisfying our taste buds we resumed our journey to our next destination.
When we reached the Echo Point we heard lots of people shouting out into the air and delighted at the multiple echoes that came back to them. This is among the most visited places of Munnar which is known for its adventure tourism and trekking. The fresh mountain air, the mist-clad hills and panoramic view makes it a worthy place to visit. It is such a mesmerizing and peaceful place that it can provide solace to weary souls. This place is so captivating that we cannot resist our temptation of yodeling and shouting. And the echo of our loud cry mesmerized us which tempted us to repeat it many times.
In the evening the departure of sun casts spellbinding effect over this panoramic land. The landscape also changes it color pattern governed by the Sun rays. After spending an incredible evening in the lap of nature we headed for the hotel. There we rested and packed our memories of this place along with our clothes and moved towards the dining hall. After having 'Sadya' a well known traditional cuisine of Kerala in our dinner we boarded private luxury bus for Ernakulam.