Periyar in Kerala: Attractions beyond Jungle Safari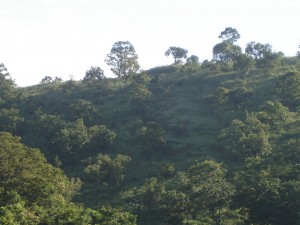 Periyar Wildlife Sanctuary
My insight love for exotic wild creatures and birds was the cause that drove me to the divine dense greens of Periyar. Such places have always fascinated me somewhere in my dreams. "Indian Wildlife" by Rajesh Bedi and Ramesh Bedi had created a great impact on me. So the story continues with my arrival in Idukki district in Kerala that is bordered by the picturesque Western Ghats.
The moment I stepped in Periyar Wildlife Sanctuary, one of the 27 Project Tiger Reserves in India, the first thing I came across was the rich vegetation that was incomparable. While going through the Periyar Travel Guide, I came to know that this paradise is located about 270 km from the capital, Thiruvananthapuram, 100 km from Alleppey and 120 km from Cochin. Stretching over 777 sq km, the dense greens of Periyar are home to about 60 different species of mammals and 320 different categories of birds.
I spend around four exciting hours there and enjoyed clicking some of the rarest animals like Lion Tailed Macaque, Malabar Squirrel and Sloth Bear. Next I headed for the lifeline of Kerala – the gigantic Periyar River (the longest in Kerala with 244 km length). Luckily I got an opportunity to click Elephants, Sambars, Dholes (Indian Wild Dogs) and Nilgiri Langurs alongside the river.
Finally, when my jungle safari was over after a half day trip, I visited the beautiful Cardamom Hills. This was the time when I enjoyed the best of nature walk of my entire life and realized that Periyar is not restricted to safaris only. Walking through the aromatic cardamom, pepper and coffee plantations was beyond words!
On my way back to the hotel, I spent half an hour in the market street but unluckily it does not offer much except its exotic spices. Even then, I bought some fine quality pepper, cardamom, cinnamon, ginger, nutmeg, mace and anise – as my mom loves to try new dishes with spices of different flavours – and who else than me bear the brunt of those experiments!