Sojourn over the Vast Backwaters with Traditional Kerala Houseboats
It evokes memories and feelings of nostalgia for me while sharing my experience to stay in a Kerala houseboat. Well, this delightful event happened to me on my 2nd wedding anniversary when Andrew, my husband revealed the surprise. That was the first time when we visited Kerala and specially booked a Kerala houseboat tour to celebrate the occasion.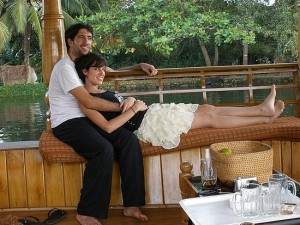 Kerala Houseboat
We started off at Cochin. The tranquility and serenity of place charmed us. A Kerala houseboat is locally called as 'Kettuvallam'. These are of different types, out of which, we booked a fully furnished single bedroom luxury houseboat.  On being reached at our houseboat, we were served with a welcome drink. It was coconut juice after drinking which, we felt refreshed.
We explored the houseboat to find out the other sections of this 'Floating Palace'. Then, we got to know that it was the suitable one for us to enjoy the special occasion. It was provided with sun deck, private balcony and all other modern facilities. The houseboats in Kerala had a separate dining area with comfortable chairs and a well-maintained toilet.

Kerala, the land of lagoons, rivers, lakes, beaches and backwaters is my dream destination and on visiting it, I felt contended. It was unbelievable to see that serving as the popular attractions in Kerala, these houseboats were made by joining Anjili wood panes along with coir ropes and still, these houseboats do not lack anywhere in durability. Use of Eco-friendly material like bamboo poles, bamboo mats, coconut fibre ropes and coir carpets gives these Kerala houseboats a traditional look.
Well, enjoying the luxury in Kerala houseboats, we reached Alappuzha Backwaters. The backwaters mainly covers the four districts of Kerala that include Kollam, Alleppey or Alappuzha, Kottayam and Kochi. Sitting back while the boat cruises through the compressed serene backwater canals, is a different fun, which gives a new height to your Kerala houseboat tour.
We enjoyed our lunch, which was more than enough for two people. It included local dishes like rice, fish fry, sambar, papad, thoran, pickle and vegetable salad. The food was too good that its delectable taste made us relaxing for some time.
In evening, we went on the sundeck, which is an ideal way to revive yourself amidst a tranquil ambiance. We preferred coffee with snacks including Banana Fry, which had a traditional Kerala flavour. After dinner, we went on bed. I was so excited to know the next day travel plan that included a visit to Kumarakom. Kerala houseboat vacation is simply a great experience for every couple.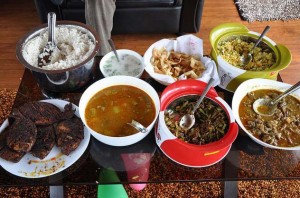 Kerala Houseboat Cuisine
Next morning, after treating our taste buds with scrumptious Appam with Egg Curry, we started off cruising to Kumarakom backwaters, through the most popular Vembanad Lake. Innumerable lagoons, canals, lakes, estuaries and lakes form the 900 km backwater network of Kerala. That was most probably the best way to experience the magical charm of Kerala backwaters. We had a romantic time overnight in houseboat.
The next morning was our departure. Though we had to spend some extra bucks for a luxury houseboat but the experience was worthy. The moments, we captured in our camera shed off my sadness to depart from such a beautiful land.