Spending Memorable Vacations in Kerala
I was extremely excited when we decided to visit Kerala for the honeymoon. It is the only destination that had allured me since the time I started experiencing Ayurveda. After watching dream locations in movies and reading about the Ayurveda, Kerala was my dream destination. When I got the opportunity to explore it with my life partner, it was like icing on the cake.
Ayurveda Massage
In the very next week of our wedding, we got the chance to explore Kerala and believe me that was like a dream coming true. I was desperately waiting for the day, when we would fly to the beautiful state of south India and it was really a tough job to wait.
Finally, the day approached and we took a flight from New Delhi and reached Kozhikode Airport. From there we hired a private car and reached our destination hotel. As it was middle of the day, so we decided to take the rest for that day.
Next morning, we started our day with Kerala Ayurveda massage to revitalize our body and soul. Use of aroma oils by skilled therapists made it an unforgettable experience. That was simply different from the treatment I had taken in Delhi. One can choose the treatment from a long list of Kerala Ayurveda therapies. Ayurveda massages not only revitalize your body but is the base of natural healing treatment with the help of plant based medicines.
Later on, we moved to explore the sun kissed beaches of Kerala. It is really hard to explore every beach of Kerala in one single trip as this amazing state is full of beaches. So, we finalized only five beaches and that too for different days. Those five names include Kovalam Beach, Alappuzha Beach, Kappad Beach, Varkala Beach and Beypore Beach.
After reaching Kovalam beach, I understood why people love to visit beaches. 17 km coastline and cluster of three beaches can not be explained in words. Breathtaking sea views and endless sight of coconut trees create a fascinating environment. For the next four days we enjoyed a quality time on  rest of the beaches.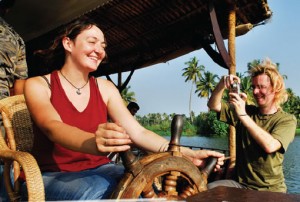 Kerala Vacation
Then, it was the time to enjoy some more quality moments and to start the new life in the beautiful houseboats in the backwaters of Kerala. This was the most fascinating time in the complete trip. Made up of natural elements borrowed from mother nature, these house boats are something out of the world. Charismatic ride on those classical Kerala houseboats and interconnected canals gave us a chance to explore the green land in the most beautiful way.
Our  Kerala vacation was over but still we were not in a mood to go back in that hustle bustle of Delhi. The whole tour was amazing. We took the same route and came back with lots of golden memories. The only thing I can say about our  Kerala honeymoon tour was it was truly amazing to know my life partner in the mesmerizing views of Kerala.