Take Joy in the Celebration of Pongal Festival in Kerala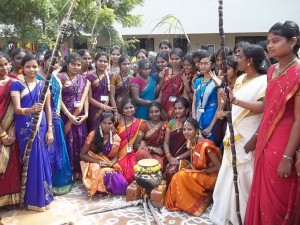 Pongal Festival Kerala
Pongal festival in Kerala reminds me of my most enjoyable experience of Kerala tour. I, accompanied by two of my friends went to Kerala in January to enjoy Kerala sightseeing. At that time, we were not aware that we would become the participants of the most heard Kerala Pongal festival.
As the festival was related to agriculture, we came across the amazing sights of village folks, soaking in the traditional festivity. It is mainly enjoyed for three days but few parts of South India keep the festivity on even fourth day. Pongal is among the most celebrated festivals of Kerala.
We were very excited to celebrate that traditional festival on our Kerala tour. When we got to know that the next day would be the "Bhogi Pongal", I kept tossing all the night and got up early. In the morning, I saw a totally different sight. People were busy in cleaning their homes and they also made "Rangoli" from rice flour.
Accompanied by people, I also went to worship rain God Indra. In the evening, our tourist group also enjoyed the bonfire before sunrise. People took out all the useless things, which were being burnt in the bonfire in front of their houses. First day was wonderful and our joy multiplied with Surya Pongal, which was the second day. That day, Sun was being worshipped.

Farmers gathered in an open area and prepared Khichdi according to the auspicious time. The ritual attached to it, when the Khichdi fermented and fell out of the pot then ghee and milk was added. The fermentation marks the prosperity and happiness in the family. The milk in the Khichdi started felling out of the pot, it was considered as it would prosper the farming.
The cooked food was distributed among people as "Prasad". Mattu Pongal was the next day of the festival. On that day, farm animals were being worshipped which created a different spectacle. Bullock cart races and ox races were also organized which was really rewarding to see. I simply relished the "Khichdi" on banana leaf, which represents its ancient tradition.
That was a really wonderful experience, which I want to enjoy again and again.