The best experience of cruising in houseboats in Alleppey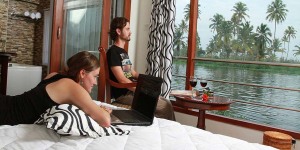 Houseboats in Alleppey
When we were trying to book our tour packages for exploring Kerala, we came across the tempting option of exploring the backwaters through houseboats in Alleppey. We started with delving into the basic facts which revealed that these houseboats were initially used in Kerala, for transporting rice and spices from Kuttanad to Kochi. What enthralled us was the fact that not a single nail was used to make these boats. Such a technical marvel, is not it?
It was only later when suddenly it did strike the Keralites that these houseboats can be used to enhance the power of their state's tourism. So, started the entire idea of Kerala Houseboats in Alleppey and Kumarakom.
Slowly, their utility has integrated so well with the tourism market that now each houseboat has even eight rooms. With high international standards, they have bed rooms, kitchens, wash rooms and even balconies for angling.
Sometimes, these are paddled manually, like you would experience in punting in Cambridge, or there is a truck engine that is installed at the end of the boat.
Also, the very feel of these houseboats is different. This is because a special kind of wood, called the 'anjili' wood obtained from jack fruit is used to make them, though, the hull is made out of teak wood.
We were able to make the best of them because the houseboats in Alleppey are known for romantic getaways. And yes, there were so many couples we found, nurturing their affection. The fact that they belonged to different parts of the world and they had come to share their special moments in 'God's own country' made it even more special to be at. The popular backwater destinations are Kollam, Kumarakom, Kochi, Kuttanad, Alleppey and others. The virgin and true beauty of the nature gets displayed by exploring the backwaters of Kerala.
With Kerala's houseboats in Aleppey, we were able to explore the beauty of the traditional villages of Alleppey and their rustic lifestyles, be it toddy farming, fishing and others. Meanwhile, we also loved the fact that the moment we checked in, we were offered tender coconut water. Also, during the meal time, we were offered sumptuous dishes of fishes and prawns. Therefore, along with exploring other beautiful places in Kerala, it is important to delve into the tour of backwaters.
The houseboats are just like your own little home and it is just so relaxing. You get to see the unseen parts of Alleppey which you definitely cannot see by walking or by taking a ride. Its completely remarkable and in short, enlightening. So, what's stopping you. If exploring Kerala is in the horizon, grab the houseboats tickets soon. Have a happy journey.