The Magic of Romance in Kollam in Kerala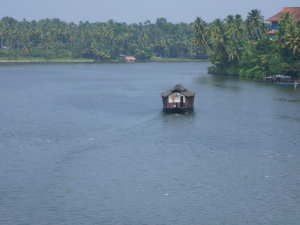 Ashtamudi Lake Kollam
My husband says I was blushing while he was making reservations for our Kollam city tour. I remember that my eyes were glued to my engagement ring, as if I could see my future in the ring, trying to hide my excitement of the first trip with the love of my life. With tickets done, and hotel booked and we set off for our honeymoon at Kollam in Kerala.
It was late in the night when we reached Kollam. Long hours of flight had taken a toll over us therefore, after a power nap for few hours we then decided to explore our Kollam travel guide. Our exploration of the mystic Kollam started from the backwaters of Ashtamudi Lake. Lauded for its pristine beauty, Ashtamudi Lake is the second largest lake in Kerala. We booked Kettuvallam, the traditional houseboat of Kerala. The boat was lavishly furnished and had a welcoming aura. It was all that we had dreamt for our honeymoon to be. I had dressed myself in a turquoise coloured dress and my husband said, "the hues of water are reflected in your eyes"," I blushed again!
When we reached Munroe village, the image of the village depicted in the stories of R.K Naryan's Malgudi days, started floating before my eyes (I like reading his books, as it gives me a  closer view of real India).
Coming back to the point, Munroe village is a small island carved out by the waters of Ashtamudi Lake and Kallanad river. The village is inhabited by very simple living people who welcome you with warmth and a smile. We saw people weaving cotton and also how oil processing is done. The island is endowed with number of criss-cross channels and canals, thus attracting many migratory birds to the village. After savouring on some yummy seafood delicacies, it was time to move ahead now.
We next visited  Thangassery village. It is said that Thangassery was once a famous Portugal settlement, later took over by Dutch and then the Britishers. The ruins of the fort could still be seen here. The part that my husband and me enjoyed the most was the view from the top of a lighthouse. This lighthouse was 112 years old and towered to height of 144 feet. It was like magic in the air, there was something mystical in the aura of this place. I looked deep into his eyes, my eyes wet with tears (No idea, why!) and said that this was the best gift he could ever give to me.
Later we visited several places like Sasthamkota, wildlife sanctuary, Elephant village and many more. We also tasted some of the best quality of cashews and ethnic Keralite food. Tapioca and fish curry is definitely a not-to-be-missed delicacy for the non vegetarians. It is sumptuous mouthwatering dish made of garlic paste, onion, red chillies, seasoned with mustard seeds and curry leaves.
We enjoyed a lot on our trip and clicked some real great pictures too. However when we returned from the trip we realised that the place had spelled some charm on us and our love was now even more deep and young. A love full of promises and a little more dedication for each other. See,  I am blushing again!