The tantalising beauty of Periyar in Kerala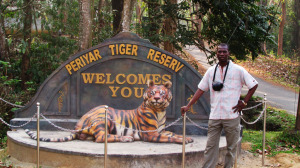 Periyar in Kerala
It was like looking for a needle in the stack of hay when we first googled for Periyar in Kerala. I still remember how inquisitive we were to see the real Periyar after investigating so much through blogs, articles, feature stories and travel write-ups.
It is located 270km away from its capital city. It is one of the 27 Project Tiger Reserves in India and is situated in Idukki district, within the bounds of the Western Ghats. It is also known as Thekkady and is famous for its distinctive wildlife. Periyar is spread over an area of 777 sq km, of which 350 sq km is separated for Periyar National Park & Tiger Reserve. The place is very rich in terms of both flora and fauna. The best place to hang out here is the Periyar Lake.
This lake was created by the Britishers in 1895. It is formed by the Periyar River, which is the longest river in Kerala. Periyar River originates at the Shivgiri Peak of Sundaramala in Tamil Nadu. Also known as the lifeline of Kerala, Periyar River contributes to the supply of domestic water, irrigation and power generation as well. The Idukki dam is built across this river. It is an ideal place to see migratory birds and herds of elephants. We also took a boat ride to visit elephants playing near the river. Must say, the grasslands across the river has an exotic collection of unique plant species.
Among the several tourist places in Periyar, the Periyar National Park definitely demands a visit. The place is a paradise for the wildlife enthusiasts. Apart from tigers and elephants, you can also find the Lion Tailed Macaque, Malabar Squirrel and Sloth Bear here. The sanctuary is the favourite haunt of mammals like Gaur, Sambar deer, Mouse Deer, Dholes (Indian Wild Dogs), Mongoose and Nilgiri Langur. Various colourful migratory birds also love to stop by it to enjoy its scenic splendour.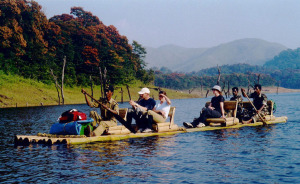 Tourist Places in Periyar
Though tagged as a tiger reserve, Periyar is also lauded for its wild elephants. There are about 800 elephants in here. We had a great time playing with the elephants. After enough of exploration, we decided to visit some spice gardens of Periyar.
We went to Abraham's Spice Garden which is 56 years old and charges Rs. 100 for a tour of its one hectare garden. Our guide explained us the medicinal value of each spice and also how they are used in different cuisines. He also told us about some century old researches and how Periyar is one of the leading spice hubs in India. It was interesting to know that how powerful can these small little herbs are. We also visited some lush green tea-estates of Periyar and also sipped a local tea. Anyway it was time to do some shopping so we decided to buy the spices and herbs from here. My friend also bought a beautiful handicraft from a nearby village of Periyar. With the tasting of the local cuisine, our trip came to an end. Three days had passed so quickly. We packed our bags and headed for the airport. But Periyar will always be one of the best visits of ours.