Travel to Alleppey for a Truly Awesome Experience
While reading about Kerala in a travel magazine, I recalled my Alleppey Tour which I enjoyed with my husband last month. We planned our trip when the winters were approaching. Started from Delhi, we went Kerala by flight. This greatest tourist destination of India captivated our attention since our marriage. Eventually, we could plan it after 5 years but it was worth-doing.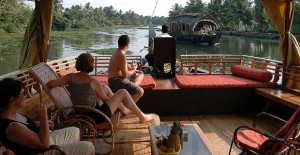 Alleppey Houseboat Travel
Wherever I got to know about Alleppey, one thing common that I found was its backwaters. The increasing popularity of these backwaters forced us to visit them first. Alleppey backwaters are a network of natural waterways that connect different towns and villages in Kerala. Being beautiful and very peaceful, they offer you ample opportunities to relax.
As we wanted to make the most of our time so we stayed in a luxury hotel. It helped us to enjoy our tour at its best without worrying about the things like where to eat and stay.

The Alleppey canal side is worth to mention here. This is the most sophisticated way of seeing the land that envelops them. We went by houseboat which was truly an amazing house on a boat. Having never been on a houseboat I was very excited. The cruising on houseboats was a truly memorable experience. It felt great to be far away from the crowd of the city and that too, enjoying cruising amidst the water. By visiting beautiful backwaters and beaches, we made the most of our tour.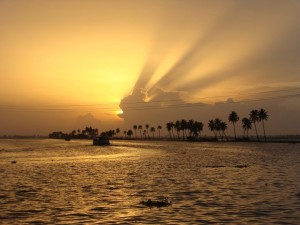 Alleppey Backwaters
The crew was very supportive and it made our journey more comfortable. As we set off, my husband started admiring scenery and was also sharing his knowledge about this land. The cruise ended but we did not feel like detaching from that little houseboat. Keeping the delightful memories afresh in my heart, I headed to a small village with my husband. There we strolled around and captured the beautiful glimpses of the sunset.
The visit that we paid to Krishnapuram Palace, was one of its kind experience. Far away from the commotion of city life, being in a Greenland and you suddenly find something which you could only imagine is something that you cannot afford to miss. Built in 18th century by King Marthanda Varma, it is well-known for its impressive murals. Revealing the legend of Gajendramoksham, it houses a rich collection of antique sculpture, bronzes and paintings.
The shimmering backwaters, the peaceful journey and exciting cruising altogether made our Alleppey tour truly unforgettable.