View the Historic Attractions with Kasargod Tour
On our India tour, we got an opportunity to visit Kerala, the God's own country. I and Denis decided to go to Kasargod. To reach there, we landed at Manglore airport, situated 50 km from the state. The trip was supposed to be interesting as we were visiting Kerala for the first time.
On being reached there, we stayed in a good hotel and has a quick routine round up to freshen up ourselves. Enjoying the facilities and beautiful view of our room, we made a plan to explore Kasargod.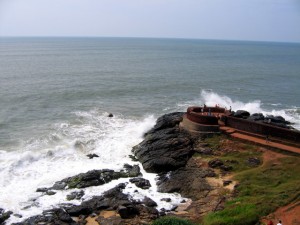 Bekal Fort
We started from the most famous destination –Bekal Fort. Standing amidst the roaring music of the sea and unlimited waves in its background, this fort is among the best-preserved forts in Kerala. It was just 16 km from the south of Kasargod located on the national highway. Bekal fort has a circular impressive structure that rises 130 ft. above sea level and stands about 40 acres of land.
Being made in a shape of a gigantic keyhole, this historic fort offers best view of the Arabian Sea from its observation towers. Huge cannons were placed on these tall towers centuries before. We entered through a zigzag entrance and saw the trenches around the fort that looked amazing. The fort is the finest example of the defense strategy.
When we reached outside, Denis denoted to an old mosque. The guide told us that it was built by the valiant Tipu Sultan of Mysore. There is an observation tower amidst the fort. We had to climb a broad flight of stairs to reach there.
Then I insisted Denis to visit the temples of Kasargod. At first, he was not ready but I persuaded him and we headed to Ananthapura Lake Temple. Devoted to Lord Anantha Padmanabha, the temple is built in the middle of a small pond. There is no external source of water to supply the pond but rain only.
With each passing day, our curiosity to explore the Kasargod was increasing. We both wanted to make the most of our visit to Kerala. Next attraction which we visited was Chandragiri Fort. The guide who accompanied us, told that the fort was built in 17th century by Shivappa Nayaka of Bedanore. A small mosque was also situated near but we could not visit it.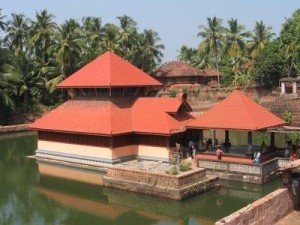 Ananthapura Lake Temple
Next day, we also visited Madiyan Kulom temple, located in Ajanur village. Devoted to goddess Bhadrakali, the temple also houses some other deities like Bhagavathi, Kshetrapalan and Bhairavan.
Enjoying traditional cuisine, having the glimpses of Indian culture and viewing the historic monuments altogether was a great experience.
Renowned for its illustrious scholars who belong to Kuttamath Kunniyur family, Cheruvathur is another interesting place which we visited. The main attraction is the ruins of a Dutch fort, dating back to 18th century.
The trip ended and we bid goodbye to this wonderful place with a heavy heart but we were happy to have the snaps of our tour.