Visit Kerala – A Home to Aromatic Delights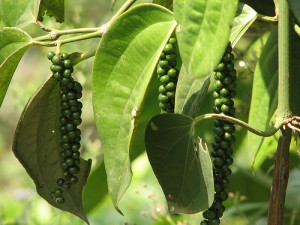 Spice Plantations Kerala
Recently, I got an opportunity to experience the pure and untouched nature during my Kerala tour.  We a group of four friends went there. I had heard a lot about Kerala from one of my colleagues, whose native land was Kerala. She used to talk about the spice plantations of Kerala. I always used to relish her food in lunchtime as it was enriched with the aromatic flavour of Kerala, the hub of spices.
The reason why I felt like going there was its picturesque surroundings of gardens. We planned a trip just after the monsoons and reached there in day time. After taking rest, we headed towards the greens of Idukki, which is called as the spice land of India.
Our knowledgeable guide shared his knowledge with us and told us that the climate and soil conditions of the hilly areas of this land make it best suited for tea cultivation. He plucked some green leaves and showed us. We saw that the shiny green leaves had pointed ends with a pleasant aroma. The trees were planted at a distance of 1 to 1.5 meter along the landscape. The guide told us that Cochin is the place which is known for producing spices. The traders dealing in spices also meet at the same place, which is actually the spice market of Kerala.
As we drove through the thick forests on a road that passes through several tunnels, we witnessed nature in a new form which was a great visual treat for us. Soon we reached in a place where we were enveloped in the unmatched aroma of the spice plantations. I was so delighted to find the spice gardens and tea plantations in front of my eyes. At the edge of the Periyar, we found many spices gardens. There were dense forests, dwelling at a height of 800-1000 meters which preserved the exotic flavours.
As we moved ahead towards Munnar and Wayanad, we were amazed to find some fragrances of coffee, black pepper and cardamom. We saw the clusters of black pepper plants. As we drove by, there were stretches of cardamom plantations. I decided to get down from the car to pick up some fresh cardamom. My friends also accompanied me. After collecting some cardamom and black peppers from trees, I run a few step and saw clove vegetation. All my three friends were busy in sorting out the other spices like black pepper, ginger, cardamom, turmeric, nutmeg and cinnamon.
It was an exciting and fun-filled experience that made us forget everything for some time. I simply lost myself in the captivating beauty of the gardens and plantations. After coming back, when I shared my tour experience of Kerala with my family members, I felt nostalgic.